News 2023
09/03/2023
​Another really sad day here at Cesarka. Yesterday we had to say goodbye to our little Lexi (Chargoldlie Little Seren over Cesarka 29/12/2009 – 08/03/2023).  We knew the day was coming but it's never easy.  She was the most gentle, loving little girl ever, but oh so stubborn at times!  She always did things her way and no changing her .She did well in the show ring, but at 2 1/2 had pyometra whilst in season and had to be spayed.  After that her coat was like a sheep.  
Lexi loved everyone she met and especially enjoyed her walks alongside the golf course.  However if you didn't watch her, she was off down to the beach,  where she became completely deaf to your calling LOL.  Such a character that can't be replaced.  We're all going to really miss her so much, especially her best friend, our Georgie.   RIP baby girl.  Till we meet again.  You'll never be forgotten
19/01/2023
Cesarka Ellie May 26/05/2008 – 19/01/2023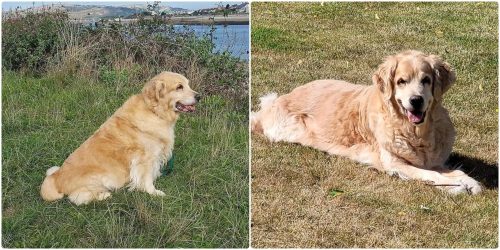 No words will ever be able to describe just how much Ellie meant to me, she was my soul mate, my heart dog, my very best friend in the whole wide world; so it's with the heaviest of hearts that I'm letting you know that our  our precious girl gained her wings  for Rainbow Bridge.
Ellie was the most beautiful, kind, patient, sweet, loving girl you'd ever wish to meet; she never put a foot wrong in her whole life and had an almost ethereal presence about her with the most soulful eyes, she was my shadow, my confidante, my most special & precious girl; absolutely perfect in every way, there will never be another girl like Ellie-May.
Run free darling girl, until we meet again. Shine brightly up there like you did here on earth.
You meant so very much to both us and will be loved & missed forever & always…xxx